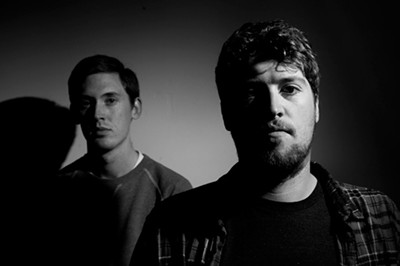 Saturday, September 28th as part of the 10th Annual Decibel Festival
HOME BASS
featuring...
DUSKY
Aus Music / Anjunadeep / dirtybird - London , UK
http://dbfestival.com/dbx/artist/dusky

MIDLAND
Aus Music / Phonica / More Music - London , UK
http://dbfestival.com/dbx/artist/midland
J. ALVAREZ
Hypercolour / Fortified Audio - Seattle, US
http://dbfestival.com/dbx/artist/j-alvarez
Doors at 9pm / 21+
Advance tickets $22 at http://bit.ly/11eDt3Y // FREE with Decibel Pass which can be purchased at http://bit.ly/NxeCnQ
Q
1426 Broadway Ave, Seattle
Sorry, there are no tickets available online. Please contact the venue for more information.
Event Info
Saturday, September 28th as part of the 10th Annual Decibel Festival
HOME BASS
featuring...
DUSKY
Aus Music / Anjunadeep / dirtybird - London , UK
http://dbfestival.com/dbx/artist/dusky

MIDLAND
Aus Music / Phonica / More Music - London , UK
http://dbfestival.com/dbx/artist/midland
J. ALVAREZ
Hypercolour / Fortified Audio - Seattle, US
http://dbfestival.com/dbx/artist/j-alvarez
Doors at 9pm / 21+
Advance tickets $22 at http://bit.ly/11eDt3Y // FREE with Decibel Pass which can be purchased at http://bit.ly/NxeCnQ
Q
1426 Broadway Ave, Seattle

ABOUT DUSKY
London based producers Alfie Granger-Howell and Nick Harriman make house music that's inseparable from the genre's tradition but comes with both a widescreen ambition and a distinctly UK underground edge.
Timeless, fresh, both classic and contemporary and unmistakably theirs, Dusky's sound is influenced by everything from deep Detroit techno and bumping UK garage to classical and avant-garde electronica.
In a short time, the London based duo have rapidly marked themselves out as producers with a uniquely broad appeal. Their diverse 2011 album 'Stick By This' was celebrated by Pete Tong as one of the album's of the year, singles like 'Tyto Alba' and 'Flo Jam' on Dogmatik have blown up as house/garage straddling underground anthems, while Hot Chip wasted no time in commissioning them to transform their 'Night & Day' single into a modern garage bomb.
At the same time, darker excursions into warehouse techno like 'Calling Me' and 'Muriel' – forthcoming on School - have been hammered by Paul Woolford, Maya Jane Coles, Boddika and Loefah.
As comfortable writing elegant orchestral pieces or stirring piano motifs as they are jackin' house and techno grooves, Dusky will continue to naturally shift into new soundworlds, always united by the duo's singular aim; to compose electronic music with depth, soul and originality.

ABOUT MIDLAND
Midland made his 2010 debut alongside longtime friend Pearson Sound with their anthemic "Your Words Matter", a track that would go on to be placed in DJ Mag's "100 most important house records" feature. Within the track, the pair wove, defied and played with a number of genres and, in doing so, Midland laid a clear foundation stone for his vision of how electronic music could be. It is a sound that is rooted in House and Techno but with the rumbling low end of Dubstep and wide screen experimentation of classic Electronica.
Since then, subsequent releases on Phonica, More Music and Aus, plus remixes for Turbo, Werk and artists like the 2 Bears and Julio Bashmore have all cemented his reputation as a producer whose tastes reach beyond the dancefloor. The now London based producer's deft edits of Washed Out, Boards of Canada and Caribou have also become firm favorites with many, winning over some diehard fans along the way.
As a DJ, Midland's sets are unsurprisingly diverse, something witnessed at clubs from Fabric to Plastic People to Space in Ibiza, Horst in Berlin and Chinese Laundry in Sydney. As a result, he is just as likely to be seen playing alongside artists like Joy Orbison or Ben Ufo as he is James Zabiela, Steffi or Will Saul. With collaborations due to emerge with Breach and Pariah as well as a number of projects aimed at pushing his sound into uncharted areas, it's a good bet you will find yourself dancing to something he's had a hand in sooner rather than later.

ABOUT J. ALVAREZ
Seattle producer Chris Roman is by no means a new face. Roman debuted in 2002, and has since built a substantial discography under the alias 214, releasing on labels like Harbour City Sorrow, Car Crash Set, and Fortified Audio. Originally from Miami, many of the artist's tracks are accordingly laced with tinges of the city's famed Bass sound, but his take on electro is very much his own. His signature has matured into a supple hybrid of dancefloor bounce and dystopian grit, a progression which culminated in his 2012 output, the finest of his career. As 214, Roman put his name to Fuzzy Leash for Yellow Machines, Plastic Spokes for Fortified Audio, and Submanouvers for Frustrated Funk, and all three of these EPs showed him incorporating a fresh dynamism. Plastic Spokes, for example, took in R&B and deep house elements, and he perfected these infusions on Overseas Highway, his first release as J. Alvarez, for Hypercolour's LTD series. The EP's pop appeal was a refreshing take on electro's robotic rigidity, and declared Roman as not just an adept producer, but one capable of pushing the entire genre in new directions. -Steve Kerr XLR8R

For more information on the 10th Annual Decibel International Festival of Electronic Music Performance, Visual Art and New Media please visit us online at
http://dbfestival.com/dbx
http://facebok.com/decibelfestival
http://twitter.com/dbfestival
Decibel Presents:
Thu Jan 9, 2014
at 9PM
Q
Seattle, WA
Sat Jan 11, 2014
at 10PM
Re-Bar
Seattle, WA
Fri Jan 17, 2014
at 10PM
The Monkey Loft
Seattle, Washington
Online ticket sales have ended, but tickets may still be available at the door.
Where are my tickets?